Organic Muscle Rub - 60g - 3 Pack
Regular price

$72.00

Sale price

$64.00
Omrub is formulated specifically to assist the body's natural healing processes, with active natural, organic ingredients in a professional strength all natural muscle balm. One for your car, one for your gym bag and one for a sporty friend or a parent with joint pain. Plus, when you buy 3 you'll enjoy a lower per-tin price.
Omrub organic muscle rub can be used for: Muscle Aches, Joint Pain, Inflammation, Sports injuries, Tired muscles, Poor circulation, Bruising, Sprains and Strains, Arthritic conditions, Neuralgia, Tension headaches, or as a cooling muscle rub to help prevent injury due to muscle tension and inflammation.
BioGro Certified Organic Muscle Rub
All Active Ingredients, no fillers or nasty chemicals
Professional Strength, tested on athletes as a sports rub
Anti-inflammatory
Provides a 'deep heat' type warming/cooling sensation
Used by many for arthritis joint pain
Recyclable tin
Cruelty Free
Made in New Zealand
Three 60g Tins.
BIOGRO CERTIFIED ORGANIC

Omrub is a concentrated, anti-inflammatory, BioGro certified organic, cruelty free muscle rub.
100% NATURAL & NZ MADE

All ingredients in our organic muscle rub are 100% natural actives sourced from ethical growers and suppliers who support sustainability, and Omrub is made in New Zealand.
INGREDIENTS

Helianthus Annuus (Sunflower) Seed Oil, Rosmarinus Officinalis (Rosemary) Leaf Oil, Capsicum Annuum (Capsicum) Oleoresin, Olea Europaea (Olive) Fruit Oil, Leptospermum Scoparium (Manuka) Leaf Oil, Cera Alba (Beeswax), Mentha Arvensis Leaf Oil Menthol, Eucalyptus Radiata (Eucalyptus) Leaf Oil, Nigella Sativa (Black Cumin) Seed Oil, Arnica Montana (Arnica) Flower Oil, Eucalyptus Dives (Peppermint Eucalyptus) Leaf Oil, Origanum Majorana (Marjoram) Leaf Oil, Syzigium Aromaticum (Clove) Flower Oil, Mentha Piperita (Peppermint).
WASTE FREE PACKAGING

Our tin is recyclable and your package will arrive in a recyclable bag.
Share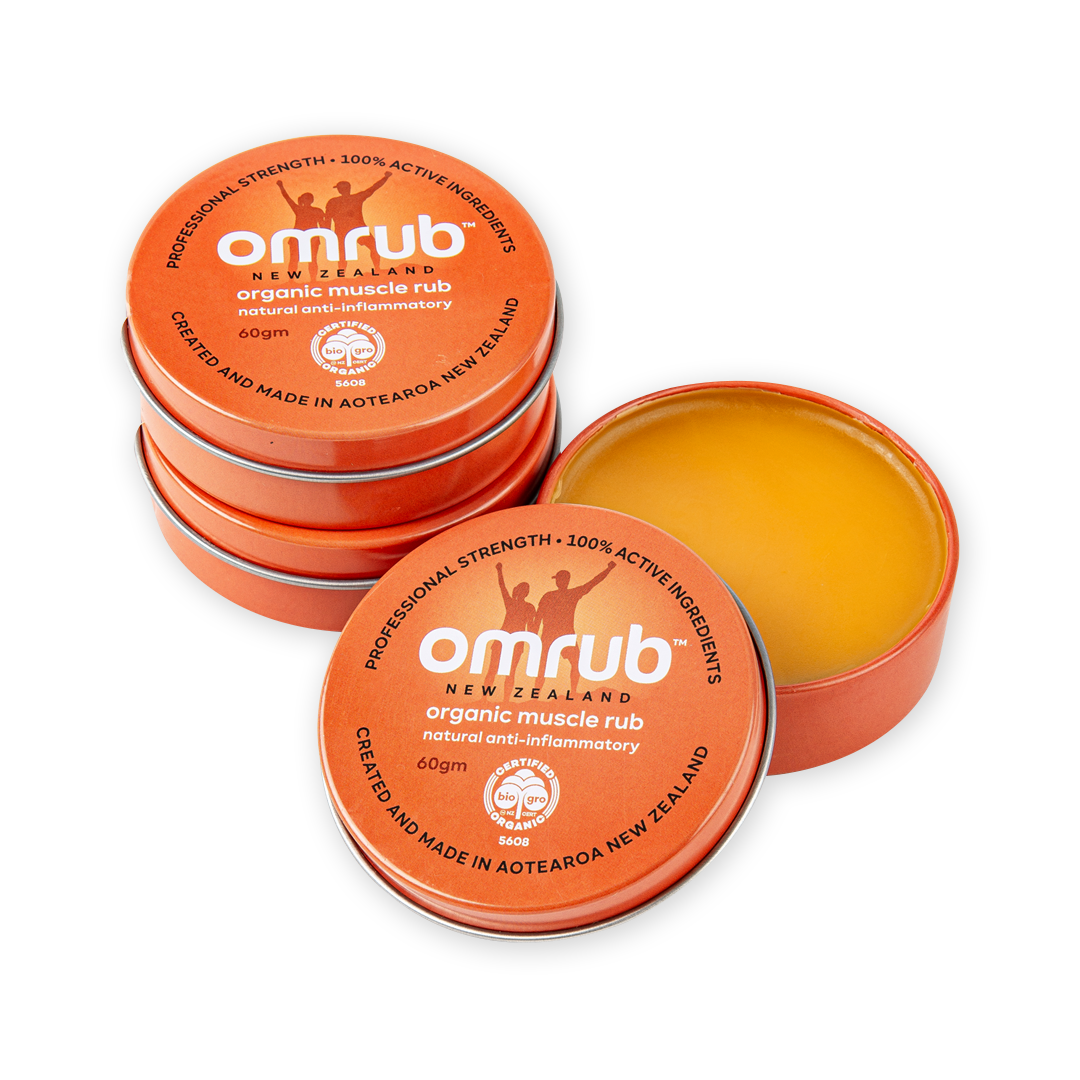 Customer Reviews
08/08/2023
How good
Excellent, from web site ordering to delivery and the product has been awesome thanks
Alan W.

New Zealand
08/03/2023
Omrub organic muscle rub
First time user. The Omrub has provided instant relief for my shoulder pain. Easy to apply. I'll continue to use this for pain relief.
Lyn W.

New Zealand
07/26/2023
Unfortunately not as well as I thought,but not blaming product was hoping it might give me some relief from my arthritis, but does help towards some of my muscular issues.
Maurice H.

New Zealand
07/19/2023
Muscle doctor in a tin.
I've been so pleased to keep using this amazing product. Omrub is the only product of this type that's 100 percent has relived my aches and niggles. It's like having a doctor in a tin. Any time I've used it I'm amazed that it works it helps me to continue with my fitness and training. Also that it's New Zealand made is a plus. I've now got friends hooked on omrub and they too are impressed that it works.
Natasha M.

New Zealand
06/27/2023
Great for the tinana!
Definitely a necessity in our whare, for regular rub on sore neck, shoulders and waewae, beautiful aroma is healing as well.
Tui M.

New Zealand
06/11/2023
Great Stuff
Easy to use and non greasy. Uplifting scent and soothing warmth.
Maria R.

New Zealand
06/06/2023
Testimony
I found that using omrub really relieves painful muscles. I love using it because it gives me a much better pain free sleep .
Florence G.

New Zealand
05/24/2023
Great muscle rub.
After having ankle surgery Omrub has really helped to soothe and relax my muscles, especially after a day of work. I also love the fact that it is organic and not packaged in Plastic! You can. Reuse the tin for allsorts.
John M.

New Zealand